Learning Paths International
One-Day Workshop
How to Build World Class Training
in Record Time
Overview
Training is often criticized for not bringing the expected results at all or not helping organizations with their immediate and short term requirements. As a reaction it is often put on hold or dramatically reduced. The created dilemma between wanting to develop staff and creating measurable and even immediate results ignited the Learning Paths methodology. The Learning Paths methodology has a strong track record in bringing the results you want. "How to Build World Class Training in Record Time" is one of the workshops supported by the Learning Paths Methodology.
The purpose of this 1-day workshop is to teach training staffs and instructional designers how to build better training while taking out unnecessary time and cost. In addition, it helps to develop training staffs in how to be a true consultant rather than just an order taker or service bureau. It will help elevate the status of individual trainers as well as the entire training department. For those who are already building or implementing Learning Paths, this session will help them improve all of the learning activities that make up a complete Learning Path.
Agenda
I. Training the Learning Paths Way
Learning Paths is all about how to get learners up-to-speed in record time. It requires training that really works as well as a development process that doesn't waste time or money. In this module, participants will learn a better way to:
Make training "stick"

Deliver real measurable results

Speed up the development process
II. Establishing Your Expertise
In order to build great training, it's critical to establish yourself as the "learning expert." This helps you make a critical leap from service provider to learning leader or consultant. To accomplish this, you need to be able to present and easily defend your principles on how people really learn and your step-by-step development process. In this module, participants will learn how to:
Develop and present 5 key learning principles that ensure measurable results

Map and present a step-by-step development process that quickly business support and consensus

Uses these tools to help establish your position as a "learning leader"
III. Systems, Guidelines, Templates and Tools
The fastest way to speed up training development is to eliminate unnecessary work and rework. There are a lot of decisions that don't need to be made every time a new project starts. In addition, learners respond better when everything has a similar look and feel. They also know more of what to expect and as a result move more quickly from activity to activity. In this module, participants will learn how to:
Use a decision making tools to determine what training methods to use based on cost-effectiveness

Identify key deliverables and how to develop templates for each. This includes design documents, participant materials, facilitator guides and elearning

Building resource libraries of past successes

Present training results in financial terms
IV. Designing "World Class" Training Programs
In this module, participants use the design document template to build a unit of instruction. This design will be done for a training issue that requires a blended learning approach. In this module, participants will learn how to quickly:
Structure and deliver content

Use activities to provide practice and application

Build in follow-up and on-the-job coaching
Who Should Attend
This session will be valuable for anyone who is leading a training department, building training as an instructional designer or delivering training as facilitator. This session will also help training departments work through common issues and improve quality and productivity. This session is also valuable for anyone who has gone through a Learning Paths certification program. This is additional information about how to build training that has been identified on a Learning Path.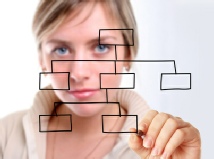 Copyright Learning Paths International 2012
"Make the leap from trainer to consultant"
"Cut the time, waste and cost out of development"
"Quickly determine the best delivery method for training"
"Learn how to make training stick"